U POVODU DESETE OBLJETNICE ZAUSTAVLJANJA TENKOVA
MINI-MARATON POLOG – ŠIROKI BRIJEG
Široki Brijeg – U povodu desete obljetnice zaustavljanja tenkova jugovojske, Sportski savez općine Široki Brijeg 7. svibnja organizira tradicionalni mini-maraton. Dionica duga desetak kilometara trčat će se od mjesta zaustavljanja tenkova u Pologu do središta Širokog Brijega. Prema najavama organizatora, očekuje se veliki broj atletičara, a za najbolje su osigurane bogate i vrijedne nagrade.
---
EUROPSKI BOĆARI U GRUDAMA
Grude – Sport je u grudskom kraju u velikom usponu. Gruđane i sve ljubitelje boćanja razveselila je vijest da je njihovom boćarskom klubu povjereno Europsko boćarsko prvenstvo što će se održati u ljeto iduće godine. Za gradnju doma i osam boćarskih staza pobrinut će se, među ostalim, Općinsko poglavarstvo Gruda te Zapadnohercegovačka županija.
---
MARATON U ŠIROKOM BRIJEGU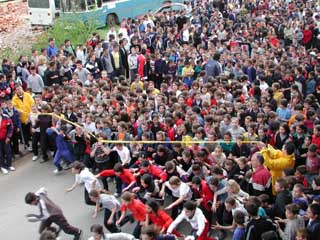 10. travanj - Široki Brijeg - Pod pokroviteljstvom Općinskog poglavarstva i Sportskog saveza općine Široki Brijeg, održane su tradicionalne ulične trke učenika osnovnih i srednjih škola. Stariji učenici trčali su dionicu dugu 1300 metara, a mlađi oko 700 metara. Kako se i očekivalo, u uličnim utrkama sudjelovalo je između 1600 i 1800 učenika.
---
MANDARIĆ U REPREZENTACIJI HRVATSKE
Mostar, 7. veljače, 01. godine – Sjajni nastupi na prvenstvima Hrvatske i brojnim turnirima te čak 15 osvojenih medalja donijeli su veliko priznanje Oliveru Mandariću, članu karate kluba Zrinski. On je postao članom reprezentacije Hrvatske i nastupit će na europskom prvenstvu, koje će se od 9. do 11. veljače održati u Nikoziji, na Cipru.
4. veljače 2001. - Završio memorijalni nogometni turnir Gojka Šušaka u Širokom Brijegu Opširnije....
U Širokom Brijegu započeo memorijalni nogometni turnir "GOJKO ŠUŠAK"
Na turniru sudjeluju : HNK HAJDUK (Split), HNK CIBALIA (Vinkovci), NK MARIBOR i domaćin NK ŠIROKI BRIJEG. U prvoj utakmici Široki pobjedio Hajduka 1:0. Pogledajte FOTO-VIDEO IZVJEŠĆE
www.ganganet.net
Diadora keeps up the momentum for summer with this new "Beige Sheepskin" edition of the N.9000 sneaker. The buttery execution entails premium suede in tan, cream and baby blue on the upper, made even more appealing by a made-in-Italy stamp of craftsmanship. Mixing athletic cues with high-grade materials, the N.9000 is nicely elevated with this latest drop from the Italian marque. Head over to Rise to cop and check out colette'
Adidas Ultra Boost Uncaged
s take on the classic runner while you do so. BUY NOW /
NIKE KOBE 11 ELITE LOW
we've enlisted the help of illustrator Dan Freebairn to show how the legendary sneaker franchise evolved over the 10-year period following its inception in 1987.
NIKE LEBRON 14
Nike's Air Max is perhaps the most iconic sneaker franchise on Earth. Even today, nearly 30 years after the original first rocked the athletic footwear market with its scandalously revealing Visible Air cushion, its popularity shows no sign of waning.
NIKE AIR MAX 2016
With more than 60 different models and literally thousands of different colorways, there's an Air Max for pretty much every taste, style and purpose out there. In the interests of brevity, however,
NIKE AIR MAX 90
we've decided to focus on five key models: the Air Max 1, Air Max 90,
NIKE KYRIE 2
Air Max 95, Air Max 97 and Air Max 180. Thanks to the work of illustrator Dan Freebairn of Kickposters.com you can see how the design of the shoe, as well as its signature Air bag, evolved over time.
MBT BARIDI WOMEN
While the looks, materials, and structure have undergone change after change, it's testament to the power of Tinker Hatfield's brilliant design that the Air Max 1 still remains the most popular silhouette in the range – although, everyone has their own favorite. Starting off as a groundbreaking running shoe,
AIR JORDAN 4
then a youth culture staple,
NIKE AIR MAX 90
then a bonafide streetwear classic, when it comes to a sneaker with staying power,
NIKE FLYKNIT RACER HERREN
you really can't ask for more than the Max.